When you decide to apply for permanent residence for the first time, you might wonder what documents are required for a Singapore PR application.
During the online application process for Singapore PR, several fields must be filled. When a domain is left blank, the submission will be considered incomplete and, worse, rejected by the ICA.
The E-PR system would not accept an incomplete application. It can be frustrating, especially if you cannot proceed to the next page and the system prompts error messages.
You would want to be meticulous when submitting your application. Many details are required, so having a checklist of all the documents you need is extremely helpful.
We will also explain why having supporting documents like a cover letter and recommendation letters can increase your chances of success in becoming a Singapore permanent resident.
Who Can Apply for Singapore PR?
Like most immigration application forms, the Singapore PR application is done online and needs a valid SingPass account.The following people who should have a SingPass account are:
Singapore citizens
Singapore permanent residents
Current work pass holders
But before that, you must ensure you meet the basic eligibility criteria.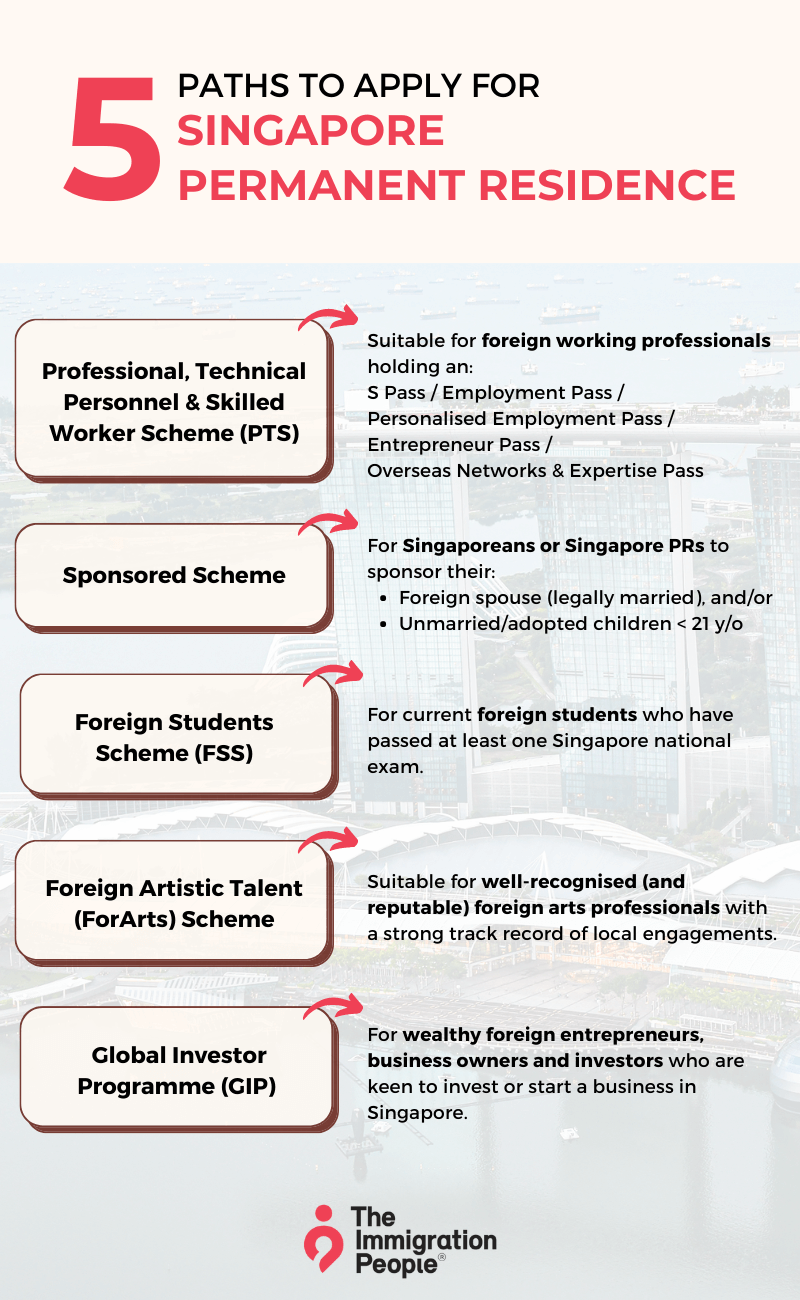 There are five different paths to obtaining permanent residency status in Singapore. The five paths are as follows:
Professional, Technical Personnel & Skilled Workers (PTS) Scheme
The PTS scheme is the most common route to obtaining Singapore PR. It is suitable for foreign working professionals who have been working in Singapore for at least six months and are holding on to a work pass status such as:
S Pass
Employment Pass (EP)
Personalised Employment Pass (PEP)
Entrepreneur Pass (Entre Pass)
Overseas Networks & Expertise Pass (ONE Pass)
Work pass holders can also include their spouses and children in their PR application.
Sponsored Scheme
Under the sponsored scheme, Singaporeans or Singapore permanent residents can sponsor their:
Foreign spouse (legally married) and
Unmarried or adopted children (born within legal marriage or legally adopted) under 21 years old.
Foreign Students Scheme (FSS)
A straightforward scheme, the FSS route is ideal for international students in Singapore who have passed at least one Singapore national exam.
Foreign Artistic Talent (ForArts) Scheme
The ForArts scheme is meant for well-recognised (and reputable) foreign art professionals with a strong track record of local engagements.
Global Investor Programme (GIP) Scheme
Although the GIP is the fastest way to be a Singapore PR, only some people can qualify for the GIP scheme.
The GIP scheme is the path for wealthy foreign entrepreneurs, business owners and investors keen to invest or start a business in Singapore.
The Singapore Permanent Residence Application Checklist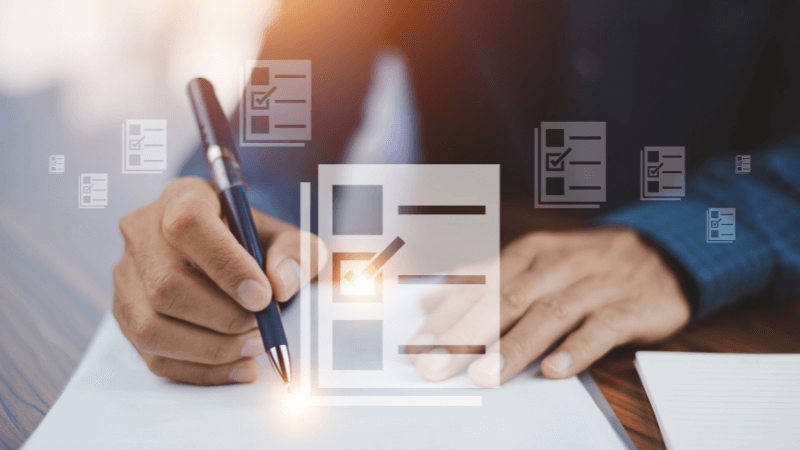 Mandatory documents are required in the application form. It requires one to present a comprehensive list of documents, including birth certifi­cates, marriage certificates, university degree certificates and so on.
The Immigration People has created a comprehensive Singapore PR application checklist that includes all the necessary documents for applicants. This checklist ensures that all mandatory documents are completed before applying.
The paths to becoming a Singapore PR vary, so different documents may be required.
First, all applicants must have a valid passport, national identity card, birth certificate and high-quality digital passport photograph.
In cases where applicants change names, a deed poll or change of name certificate must be provided. Other papers like death certificates, divorce certificates from previous marriages, and custody papers (of children) should be ready for submission, wherever applicable.
Aside from what we mentioned earlier, the following are mandatory documents that are specifically important for different groups.
For Work Pass Holder
For foreign professionals in Singapore applying via the PTS scheme, the following documents are vital in your PR application:
Singapore work pass card
Educational certificates (transcripts, professional license/membership certificates, vocational trade certificates).
6 months' payslips.
Employment letter from current employer.
For Spouse of Singaporean, Singapore PR or Work Pass Holder
Dependent pass, LTVP or work pass.
Letter of Consent (LOC), if applicable.
If the foreign spouse is a work pass holder in Singapore, their work pass card and related educational certificates would be helpful in the PR application.
For Unmarried Children of Singaporeans, Singapore PR or Work Pass Holder
Adoption papers, if applicable.
For Foreign Students Applying Under FSS Scheme
A passing Singapore national exam certificate (Primary School Leaving Examination (PSLE) / GCE "N" / "O" / "A" Level Certificate)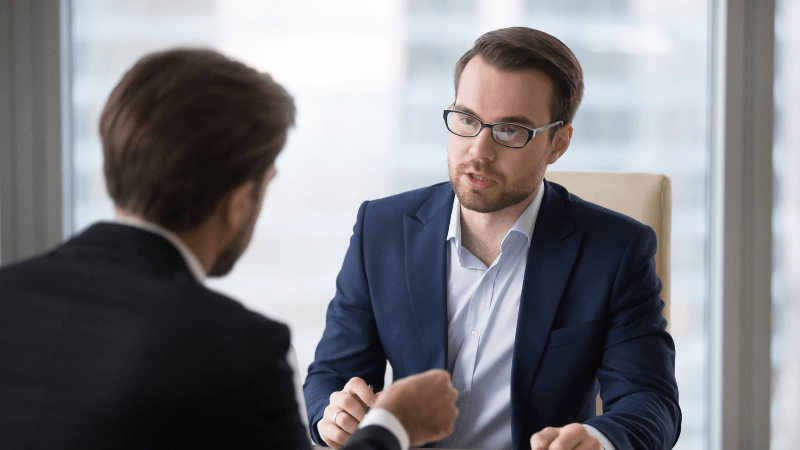 For Business Owners in Singapore
ACRA business file
Shareholding proof
Local employees' CPF Contributions proof
Valid business registration certificate
For Foreign Investors Applying Under GIP
The documents required under the GIP are more tedious, such as:
Audited financial reports,
Diagrammatic illustration of the shareholding structure
Business registration certificate
To find more, you may refer to this page.
All non-English documents must be translated into English by the Embassy of the document-issuing country or a local Notary Public.
The translation requirements are:
Translations provided by the embassy of the country that issued the document.
Translations produced by a notary public in Singapore or the country that issued the document.
Privately created translations attested by the embassy of the country that issued the document, or notarized by a notary public in Singapore or the country that issued the document.
The applicant's signature is the most important of all. The form must be signed if it indicates a field for the applicant's signature. It confirms, and the information and personal particulars must be accurate and valid.
Supporting Documents to Increase Your Chances of Approval
Having the right documents to back up your Singapore PR application can significantly increase your chances of approval.
Preparing additional documents provides a better picture of your commitment to Singapore society and your motivations to be a Singapore permanent resident, not just for the benefits but also because you sincerely want to be a part of Singapore.
As such, knowing which supporting documents are suitable for your profile and circumstances is important.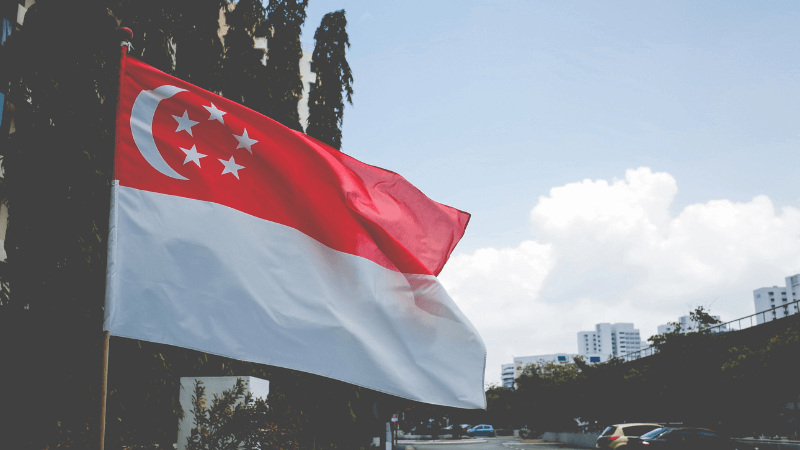 Some examples of supporting documents, in no numerical stand, that could increase your approval chances are:
Proof of Social Integration
The ability to prove that you have done more to be a part of Singapore will benefit your profile significantly. It can be in the form of donating to charity bodies in Singapore or volunteering your time with those who are in need.
Strong Financial Contribution to Singapore's Economy
Strong financial viability shows your ability to contribute to Singapore's economy. For instance, having a high monthly salary and making SRS contributions can be documentary proof of your solid financial contribution.
Proof of Long-Term Commitments in Singapore
Evidence that you have a vested interest in Singapore, such as property ownership and commitment to long-term projects or investments, shows the ICA officers your intention to stay in Singapore for extended periods.
Starting or growing your family is excellent proof of your long-term commitment, especially when you intend for your children to grow up and study in Singapore.
Cover Letter
A personalised cover letter is an excellent way to introduce yourself, your outstanding qualifications, your background and even your local family ties to the ICA. Proving why you are a good fit for Singapore is incredibly effective.
Recommendation Letters by Locals Or Permanent Residents
Being able to produce recommendation letters by locals or PRs shows how well-connected you are, rather than just mingling with the expatriate community. It can be from your current or previous employer, close friends and colleagues and local family members (if you have any).
These people can vouch for your strong desire to be a Singapore PR, making a strong case for your application.
Preparing Yourself for A Successful PR Application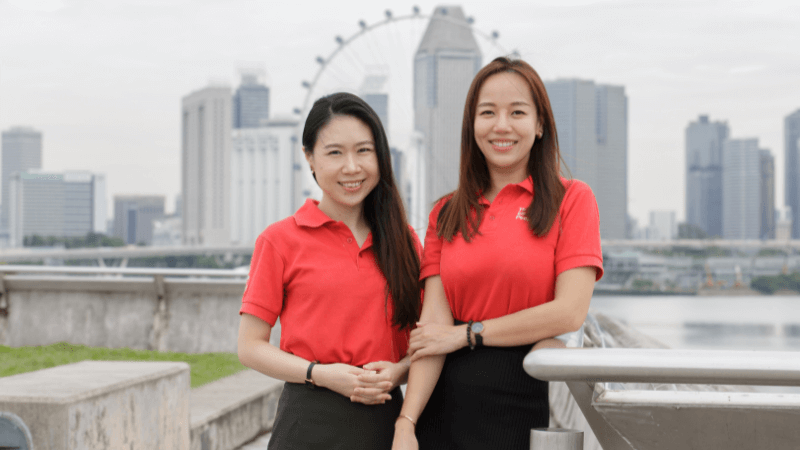 Preparing yourself for a successful PR application is key to achieving your goal of becoming a Singapore Permanent Resident. Having the right documents to back up your application can increase your chances of approval.
Here are some steps that you can take to ensure you have the best chance of success:
Ensure that you are eligible to apply for Singapore PR.
Use a checklist to gather and organise all necessary documents beforehand.
Check that all information and personal details are correct.
Prepare supporting documents like cover letters and recommendation letters outlining why YOU are a good Singapore PR candidate.
While the Singapore PR application checklist might seem like a lot to take away due to the sheer amount of documents and paperwork required, immigration consultants like The Immigration People is here to assist and provide professional advice for the best possible outcome of your PR application.
Frequently Asked Questions About Singapore PR Application Document Checklist
How Much Is The Fee for PR in Singapore?
A S$100 processing fee will be payable for each application at the point of submission. Do take note that the processing fee is non-refundable.
A S$20 fee for an entry permit is charged upon a successful application.
What Happens If A PR Application Is Rejected?
If your PR application is rejected, you will receive a rejection letter from the ICA.
You can appeal against the decision if your application has been wrongly assessed. Based on our experience, the appeal approval rate is low. We recommend submitting an appeal when there are significant changes to your initial profile.
There is no cap to applying for Singapore PR. You can try applying again after 6 months from your rejection date. We advise seeking professional advice to analyse your rejected application and guide you to prepare a better PR application on the next attempt.
How Long Is The Processing Time for A PR Application?
There is no fixed processing time for all applications. Generally, it takes about four to six months to process, depending on the case's complexity. Some application results may take longer.
Patience is key!